Artist Statement:
My basic medium is wood. Over the past fifty years I have created many subjects for my work, researching and exploring ideas that were meaningful to me at the time. Wood has always been part of all my work, used for itself or as a component of the image.
Early in my career I starting using both a band saw and a scroll saw. I have used very fine wood to discarded wood found on beaches. Wood presents a challenge that continues to test my skills.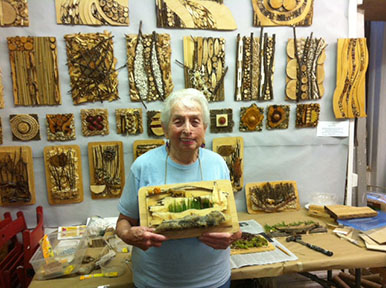 Gallery Statement
Bernette Rudolph, an internationally recognized artist is always in the forefront of ideas, innovation and exploration. Her love and skill in art has earned her a reputation for inspiring and captivating exhibitions. Passionate collectors praise her work. Her personality, energy and timeless creativity influence and touch the soul of the viewer's eye.
Paulette Hios, Director Belanthi Gallery , New York
New York Review
Contours speak volumes in the work of widely exhibited artist Bernette Rudolph. Rudolph achieves volumes of depth through the layering of cut wood so shapely and fluid that they imbue her wood wall sculptures with a sense of implied space fully imposing and sensual as that of free standing sculpture.
Ed McCormack
Editor and Critic of "Gallery and Studio" magazine.